About this Product
"Tap Coin WiFi" (WiFi Vending Machine) brings a brand-new vending business into public market. It provides visitors an immediate WiFi Internet hotspot service charged by time or traffic data.
Everyone has a smartphone, but not everywhere have WiFi. WiFi Vending Machine can fill this huge gap between WiFi needs and WiFi coverage and offer you a new way to gain revenue easily.
The machine is plug-&-play and easy to install. And the best part is all investment can be returned in 3 months.
COMPARISON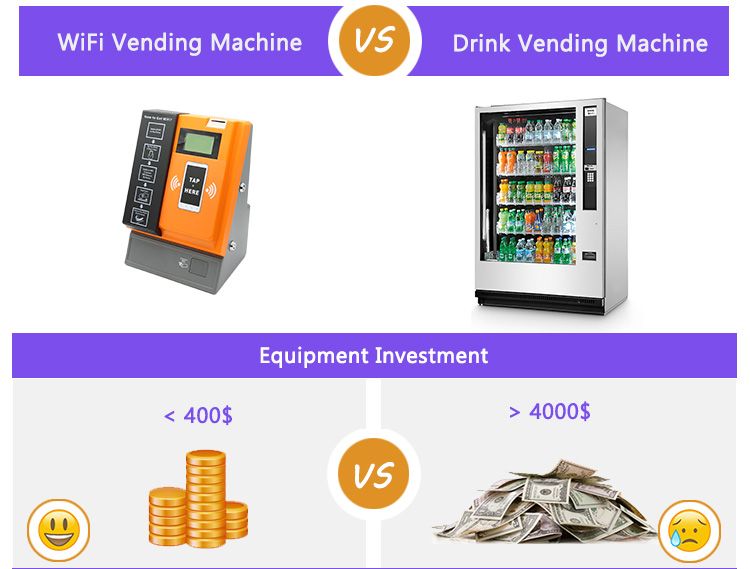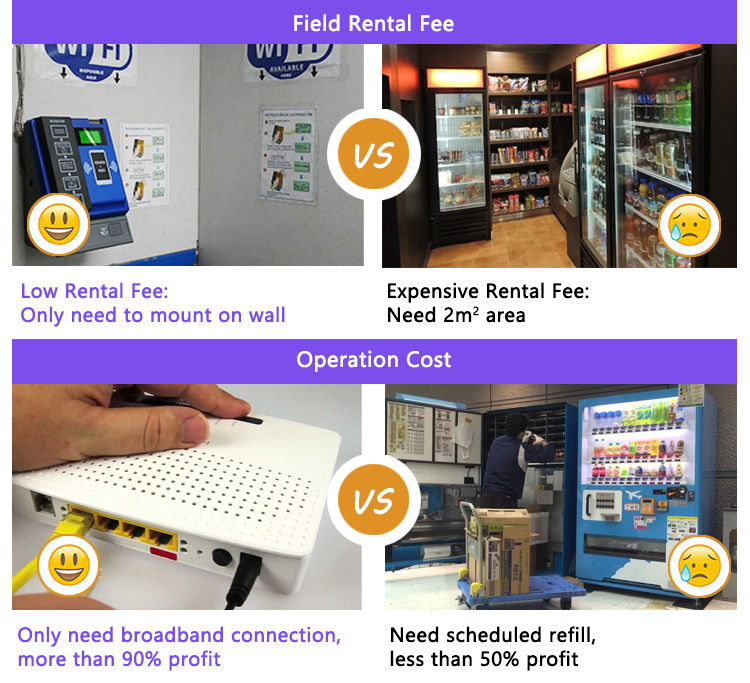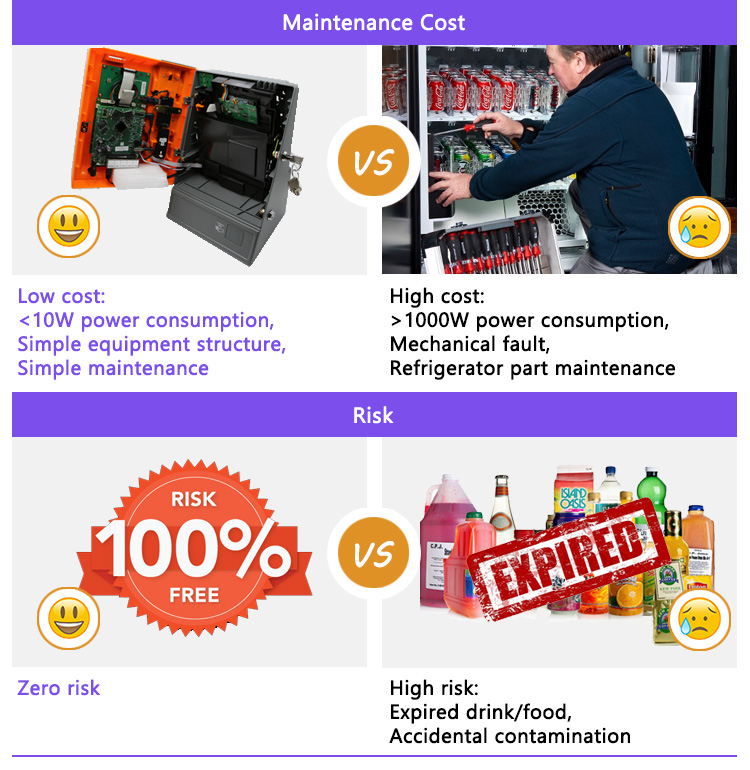 FUNCTIONS
No inquiry, no username, and no password are required; just tap the phone, insert coins, and get WiFi.
Provide big WiFi signal range (around 100 meters for outdoor / 30 meters for indoor).
Support around 50 to 100 concurrent users (depending on the bandwidth of Internet access) and optional high-end version can support up to 500 concurrent users.
No need for supervision. Self-service working method to save labor cost.
Provide user-friendly pop-up instruction page to tell end users how to get WiFi service.
Excellent coin-learning ability to recognize your local coins and discriminate fake coins.
Offer cloud-based NMS (Network Management System) to monitor all online machines remotely.
Support account roaming between different machines to help end users enjoy your WiFi service in multiple sites.
Professional coin passage design to prevent coin stolen or fraud.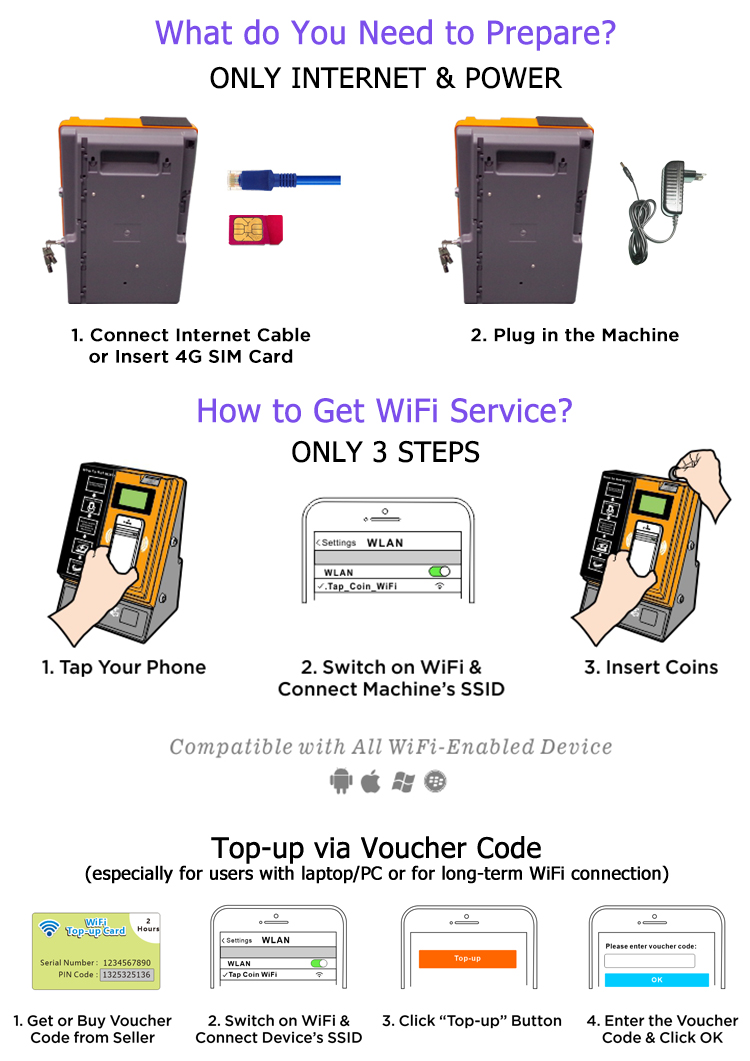 FEATURES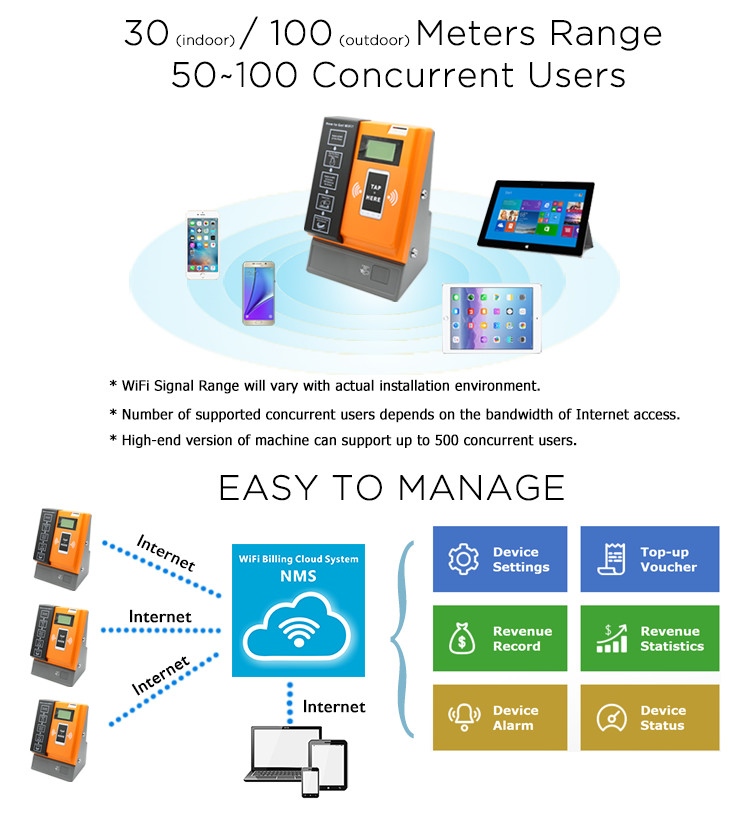 BENEFITS
Venue owners can get extra revenue by providing WiFi hotspot service and attract more visitors which is good for his original business;
Venue owners can display advertisements for their products on the login page for better promotion, or show ads for other shops to get income;
No WiFi squatter or hacker to stole Internet because no username and password is required.
Travelers can get quick and cheap Internet access without paying expensive charge for data roaming or new SIM card;
Visitors can check/send email, browse websites, and watch videos from any WiFi-enabled smart mobile phone, tablet, laptop, or handheld device.
APPLICATIONS
Suited for indoor or storefront public environment, such as:
Long-stay place: dormitories, apartments, hotels, hospitals;
Crowed public place: stations, food centers, restaurants, coffee shops, pubs, lounge bars, Karaoke bars, beauty salons, chain shops, lobby of banks/hotels;
Sports area and recreation centers: bowling, billiards;
Tourism place: international airports, beaches, parks, swimming pools, exhibition and convention sites.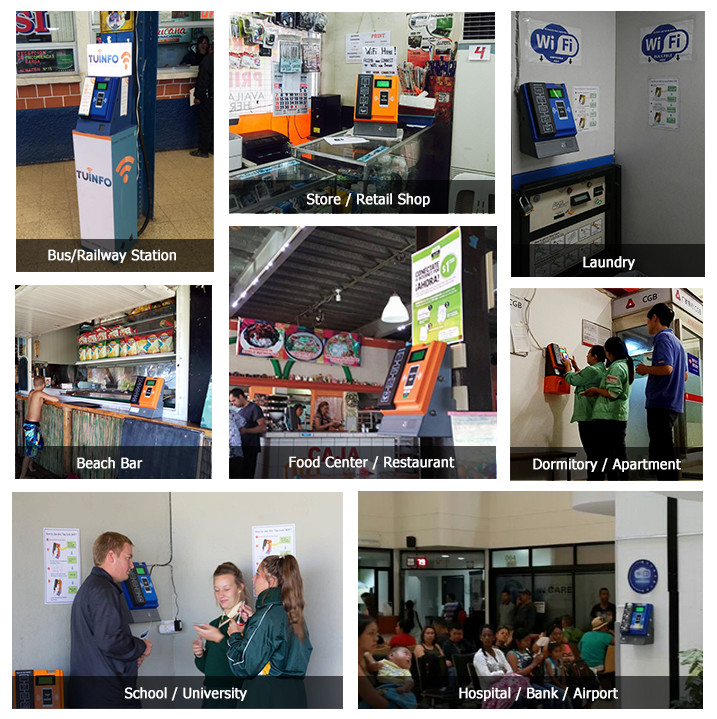 CASE STUDY
This is a real case of WiFi Vending Machine installed in Thailand. The owner needs to sell WiFi in an apartment with 3 floors and 90 residents. He adopts the following solution:
1x WiFi Vending Machine installed at the entrance on 1st floor
8x access points installed at the ceiling of corridor on 2nd to 4th floor
WiFi service price is set as: 10 Baht = 60 minutes, 15 Baht = 120 minutes, 20 Baht = 1440 minutes
The daily income of this solution can reach 300 Baht and the owner can get all his investment back in the very first 3 months.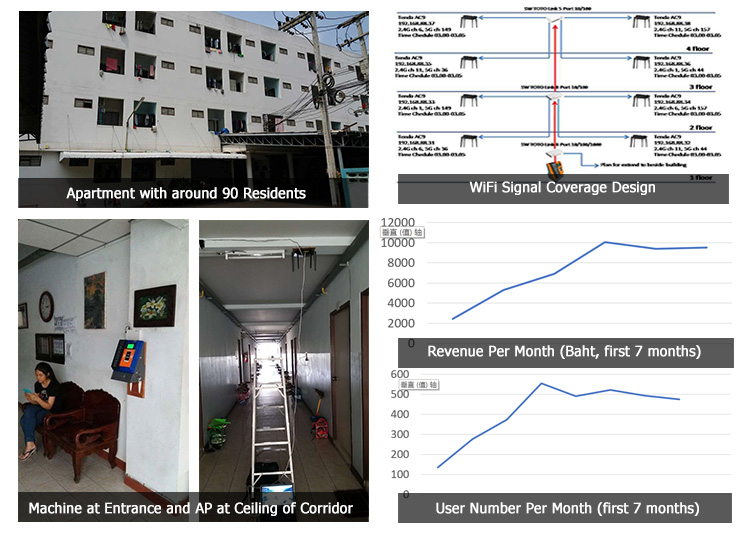 90% of visitors has contacted us to get valuable information, like:
How to run a successful WiFi business?
How to make the WiFi signal cover a dormitory with limited budget?
How to run WiFi business with video service via Internet connection of low bandwidth?
OPTIONAL ADD-ONS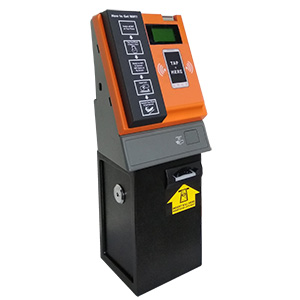 Banknote Acceptor
Let users buy WiFi service via paper money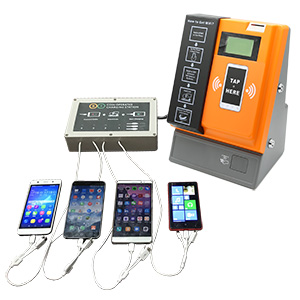 Cellphone Charger
Add revenue by selling power charging time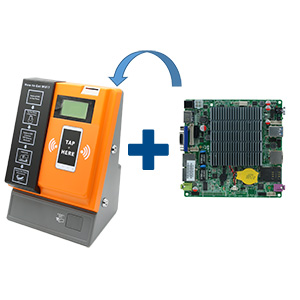 Local Video Sharing Solution
Provide time-based fast video service without consuming 4G data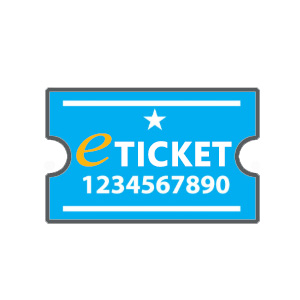 E-Ticket Vending Function
More income by selling vouchers for airtime recharge or jackpot lottery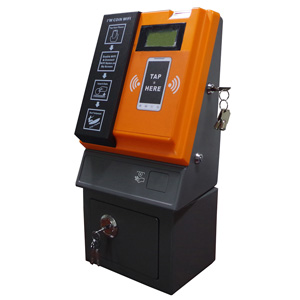 Metallic Coin Box
Stronger protection for collected coins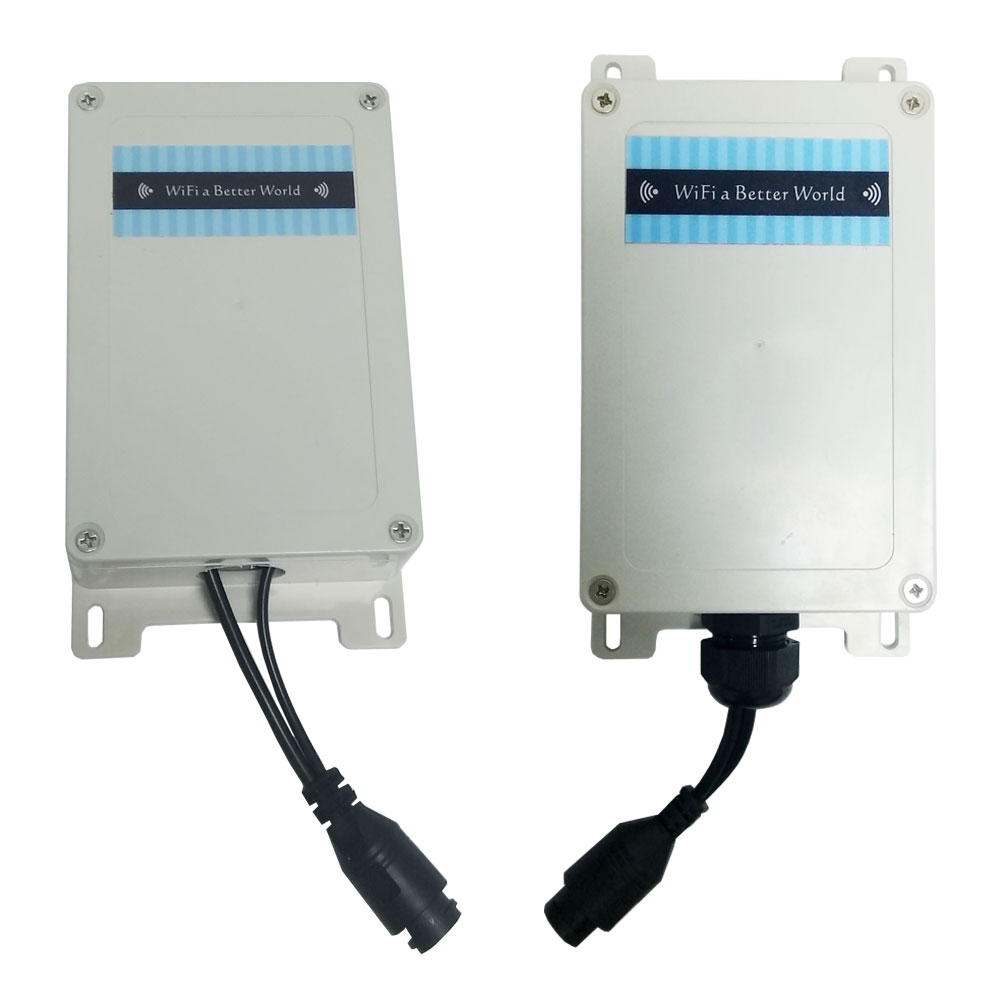 Access Point (WiFi Extender)
Offer bigger WiFi signal range to attract more users
SPECIFICATIONS
WiFi Operation Range

Radius up to 100 meters (outdoor) / 30 meters (indoor)

Supported Device for Tapping

Any WiFi-enabled mobile phone, tablet, laptop, PSP, PDA, etc.
Power Requirement

External adaptor (input: 100~240 VAC, 50/60 Hz / output: 12~24VDC, 0.8A)
Power consumption: 6 watts
Support solar power supply
Remote Management via NMS (optional)

Setting of WiFi name, WiFi service price, data speed limit
Revenue records of WiFi Internet service
Offer voucher codes for long-term wifi service
Supervision on running status of each machine
WiFi Frequency Range

BAND 2.412 to 2.484 GHz (and 5.150 to 5.875 GHz, optional)

Supported 4G Frequency Bands (optional)

LTE FDD: 700/800/850/900/1700/1800/1900/2100/2600MHz

Supported Max. 4G Data Speed (optional)

LTE FDD: Cat4 Download: 150Mbps / Upload: 50Mbps @20M BW

Environmental Conditions

Temperature: 5°C to 45°C (operation) / -10°C to 60°C (storage)
Humidity: 10% ~ 85% non-condensing
Shall work in bright environment
Networking

IEEE 802.11 b/g/n (and 802.11 a/ac, optional) Wireless LAN
Zero end-user configurations

Authentication

Built-in user authentication and accounting

About Coins

Coin Acceptance: 15 different types
Usable Coins: Diameter: 16mm ~ 31mm, Thickness: 1.2mm ~ 3.2mm
Coin Box Capacity: 1 liter (optional metallic coin box: 2.7 liters)
Supported Language

English, Spanish, Portuguese, Russian, French, and Thai are available (other languages can be customized)

Structural

Housing Material: ABS plastic
WAN Interface: 1x RJ45 port, or built-in 4G module (optional)
Antennas: 1x WiFi (built-in), or 1x 4G (external, optional)
LCD: 4-line, 128X64 pixels, backlight supported, shock resistance ≥ 4,000N
Dimensions: 350mm (H) X 270mm (W) X 200mm (D)
Weight: 3.1 kg
Packing Dimensions: 430mm (H) X 320mm (W) x 240mm (D)
Packing Weight: 3.8 kg
Photos of Installation Site
FAQ
Can I change the machine's WiFi name and WiFi service price, and check the revenue records?

Yes, you can remotely configure and supervise the machine by yourself via our cloud-based NMS (network management system) platform. Please contact us to get the NMS license.

How many user's device can connect to the Tap Coin WiFi at the same time?

Around 50 to 100 users, depends on the bandwidth of Internet access to the machine. You can set the maximum number of users and speed limit of each user via our NMS.

What is the best bandwidth of Internet access shall I prepare for the Tap Coin WiFi?

At least 4 to 20 Mbps. The higher the bandwidth, the faster the average data speed of each user.

What is the WiFi signal range of Tap Coin WiFi? Can I extend it via external antenna?

It's around 100 meters (outdoor) / 30 meters (indoor) and will vary with actual installation environment. This machine doesn't support connecting external antennas. You can connect one or more units of access point (AP) to extend its range.

It seems that some user's device cannot get WiFi connection after tapping. How to do?

Please firstly disable the WiFi connection on the user's device, and then do the tapping -> enabling WiFi connection -> connecting SSID -> inserting coins. And please try to install the Tap Coin WiFi in a bright place.

Why the screen shows "No Internet" ?

The Internet connection to the Tap Coin WiFi is cut or is not stable.